Xenko 3.1 Released
Virgile Bello
It took some time to stabilize everything with the new Xenko packages, but we now feel confident enough to release Xenko 3.1!
Highlights 🔗
One of the major change is turning the engine into modular NuGet packages, published on NuGet.org.
Please note that Visual Studio 2017 is not supported anymore, please upgrade to 2019.
Community 🔗
Many thanks to the community and all the contributors who made this release possible: aggror, Eideren, alexb910, comradekingu, flabbie, CharlesWoodhill, Artaki, indigozero, dfkeenan, dominikjancik, erictuvesson, Hyperpred, louies0623, Lucifer2031, Ethereal77, mostafa901, Kryptos-FR, shinkitsunemaru, phr00t, Polymo, profan, xendez, Scorp-121, SleepyMode, tebjan, xen2, WhyPenguins, OoElectron, joreg, meriaizen86, rgawry, SantosSi, xwellingtonx, SilentCLD, HoSeCoin, Swann Martinet, WaldiS and pansan.
Xenko 3.1 Loves NuGet! 🔗
Xenko was always a big proponent of NuGet: since first version, Xenko was distributed as a NuGet package.
However, due to limitations (hello packages.config and project.json!), we were leveraging NuGet more as a distribution medium than proper NuGet packages: Xenko 3.0 is still a monolithic single package and it would not work out of the box when referenced from Visual Studio without using Xenko Launcher and Game Studio.
Xenko 3.0 paved the way by making Xenko compatible with the new project system (game projects were referencing Xenko using a PackageReference).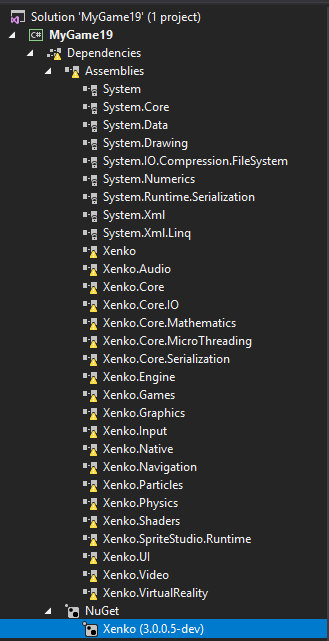 Today, Xenko 3.1 brings Xenko as a set of smaller NuGet package, each containing one assembly, with proper dependencies: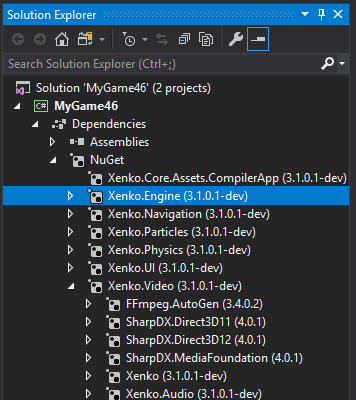 As a result, it is now possible to create a game project that references only the packages you want. Here are a few examples of "core" packages:
Xenko.Engine: allows you to use core engine runtime (including its dependencies)
Xenko.Core.Assets.CompilerApp: compile assets at build time
Xenko.Core.Mathematics or Xenko.Graphics: yes, if you want to make a custom project only using Xenko mathematics or graphics API without the full Xenko engine, you can!
Xenko.Core.Assets, Xenko.Presentation or Xenko.Quantum: all those piece of tech being used to build Xenko tooling are also available for reuse in other projects. Nothing prevents you from generating assets on the fly too!
Then, various parts of the engine are distributed as optional packages:
Xenko.Physics
Xenko.Particles
Xenko.UI
Xenko.SpriteStudio
Xenko.Video
If you don't reference those packages, they won't be packaged with your game either. In many situations, it will result in a smaller packaged game and improved startup time.
Also, you will be free to replace those functionalities with alternative libraries.
Package layout: following best NuGet practices 🔗
Previously Xenko references were added to the project using custom targets.
New packages are now be layout as NuGet/Visual Studio expects them, in folders like lib/net45 and lib/monodroid10.
We still have a few custom MSBuild targets but reduced them to minimum.
Xenko assets are also distributed as part of package 🔗
NuGet packages have a xenko folder containing Xenko assets. As a result, user are able to generate nuget package containing Xenko assets out of the box from Visual Studio and publish them on NuGet for general consumption.
Xenko Packages are now distributed on nuget.org 🔗
With all those changes, it makes sense to stop distributing Xenko on our custom nuget server and use nuget.org instead.
This will greatly reduce friction to try Xenko (any project would work out of the box in Visual Studio). This might also make our launcher completely optional in the long run.
Xenko tooling resolves assemblies dynamically using NuGet API 🔗
Tools such as GameStudio or Asset Compiler are distributed as NuGet packages. However, it won't bundle Xenko Runtime, which will simply be encoded as dependency.
When running those tools, they are resolving Xenko runtime assemblies directly in the NuGet cache.
This allows for distributing those tools as very small and easy-to-upgrade packages, avoiding file duplications. This is similar to what dotnet-cli is doing with deps file.
This brings lot of technical challenges but should allow us in the future to be more flexible in the future to load the exact runtime and plugins that the user project reference rather than the one hardcoded with the tool.
Future: plugin support for editor 🔗
Xenko 3.1 editor will still be monolithic: editor support for UI, SpriteStudio, Video and other optional modules will be hardcoded.
However, the target is to get rid of them as soon as possible, and treat them as what they are: plugins.
Full switch to .NET Standard 🔗
Xenko supports .NET Standard for most of its runtime assemblies.
Xenko games can run on .NET Core for both Windows and Linux.
Tutorials 🔗
Xenko now has a tutorial section in the documentation!
The first project "C# Beginner", demonstrates 12 beginner programming concepts.
Users will be able to select the tutorial template when creating a new Xenko project to practice and experiment with the code.
Additionally, the code used in the project is directly referenced by the new documentation section which explains each individual tutorial level.
The amount of tutorials, as well as intermediate and advanced tutorials, will be extended/added from now on.
BulletSharp update 🔗
Eideren worked on updating our old custom modified version of BulletSharp (the wrapper library we use for our physics engine).
Things should be much easier to maintain from now on.
Changelog 🔗
This release also contains numerous improvements, bugfixes and new translations.
Here is the full changelog in all its glory:
Alex (1):
Allan Nordhøy (9):
Andrea Aruta (6):
Charles Woodhill (1):
Christian Georgiev (2):
Cody Lee (4):
Daniel Keenan (2):
Change the ObjectToTypeName value converter to give prettier C# names. (#400) view commit
[GameStudio] Improve "Add component" button usability. (#411) view commit
Dominik Jančík (6):
Eideren (55):
Eric Tuvesson (1):
Félix Dion-Robidoux (1):
Hyperpred (1):
Jarrett Robertson (1):
Fixed issue with scene instance using the wrong collection in for loop count view commit
Louies (10):
Lucifer (8):
Mario Guerra (10):
Moustafa khalil (1):
Nicolas Musset (10):
Oscar Sanchez (9):
Phr00t (2):
[Graphics] Vulkan: add support for R10G10B10A2_UNorm and R11G11B10_Float view commit
[Input] Fix mouse VirtualButtons view commit
Polymo (1):
Robin Hübner (2):
Rui Mendes (3):
Added translation using Weblate (Portuguese) view commit
Added translation using Weblate (Portuguese (Brazil)) view commit
Translated using Weblate (Portuguese) view commit
Scorp-121 (4):
Scorp121 (10):
SleepyMode (1):
Swann Martinet (2):
Tebjan Halm (6):
Virgile Bello (510):
WaldiS (3):
WhyPenguins (1):
Yuuki terumi (5):
dfkeenan (5):
ioc (1):
Fix broken link to Teamcity Android build in ReadMe view commit
joreg (1):
meriaizen86 (3):
pansan (1):
Translated using Weblate (Chinese (Simplified)) view commit
phr00t (2):
Make alpha optional in Color4 view commit
[UI] don't invalidate text UI if we set it to the same thing view commit
rgawry (1):
ssantos (1):
tebjan (4):
xwellingtonx (1):
陈宇航 (1):
Translated using Weblate (Chinese (Simplified)) view commit
Generated using
git shortlog origin/master-3.0..origin/master-3.1 -w0,0,0 --pretty=format:"* %s [view commit](https://github.com/xenko3d/xenko/commit/%H)" | sed -r "s/#([[:digit:]]*)/[#\1](https:\/\/github.com\/xenko3d\/xenko\/issues\/\1)/g"

---
ReleaseTutorials
Any comments? You can start 🗨 at GitHub Discussions or Discord.
Edit this page on .